InstaDeep showcases AI-powered revolutionary Bin-Packing software at Intermodal 2022
November 12, 2022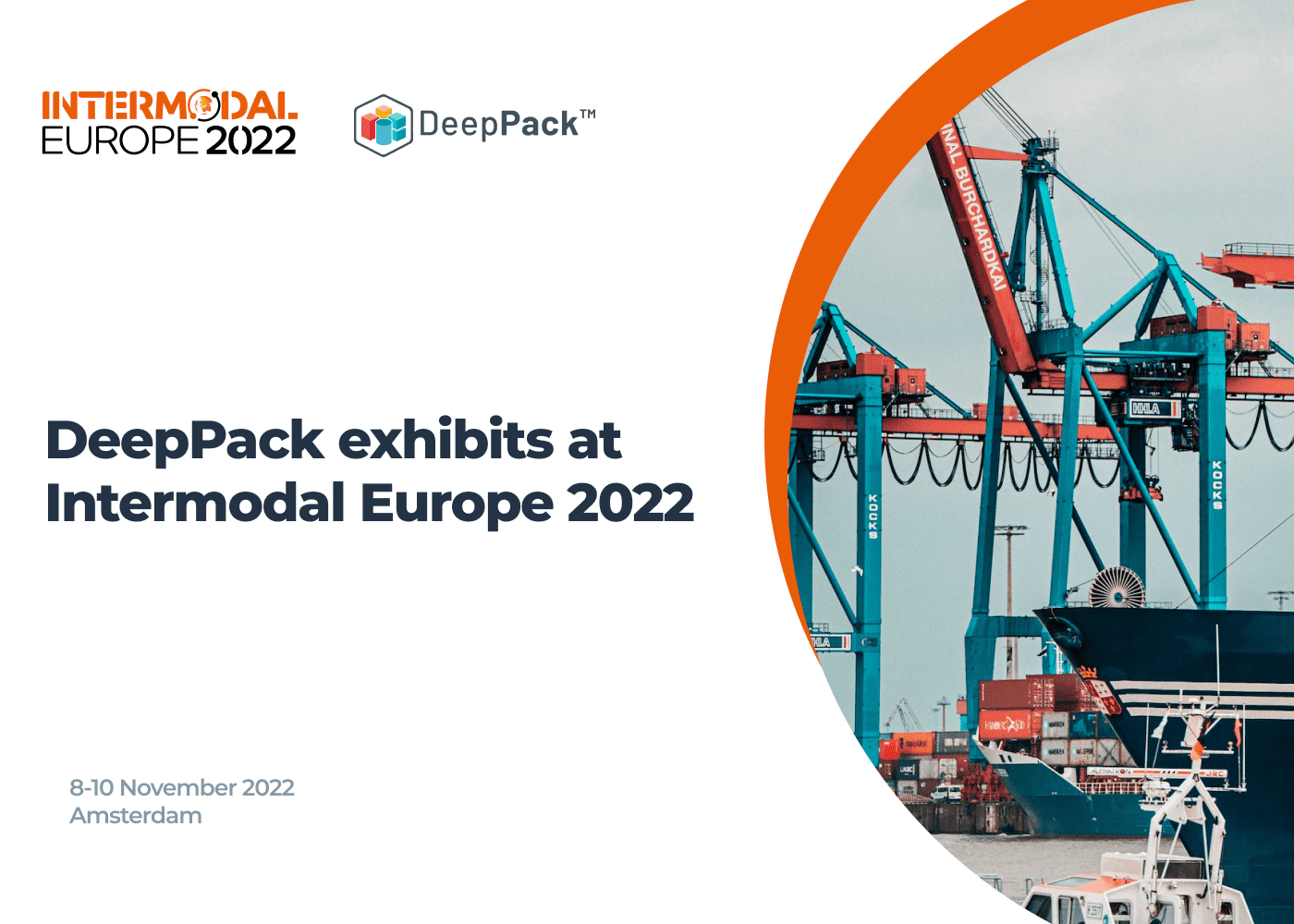 November 12, 2022
This November, the DeepPack team traveled to Amsterdam to showcase their innovative AI-powered bin-packing tool at Intermodal 2022. Back from a Covid-19 hiatus, the long-standing industry event welcomed visitors, exhibitors, and speakers from right across the spectrum of shipping and logistics services, all interested in learning about the latest innovations, technologies, products, and solutions available to the container shipping sector. 
The show's focus on the future meant that DeepPack attracted significant interest from the start. The team was kept busy with a steady stream of visitors to the booth, all keen on seeing a demonstration and enquiring about use cases and applications specific to their business.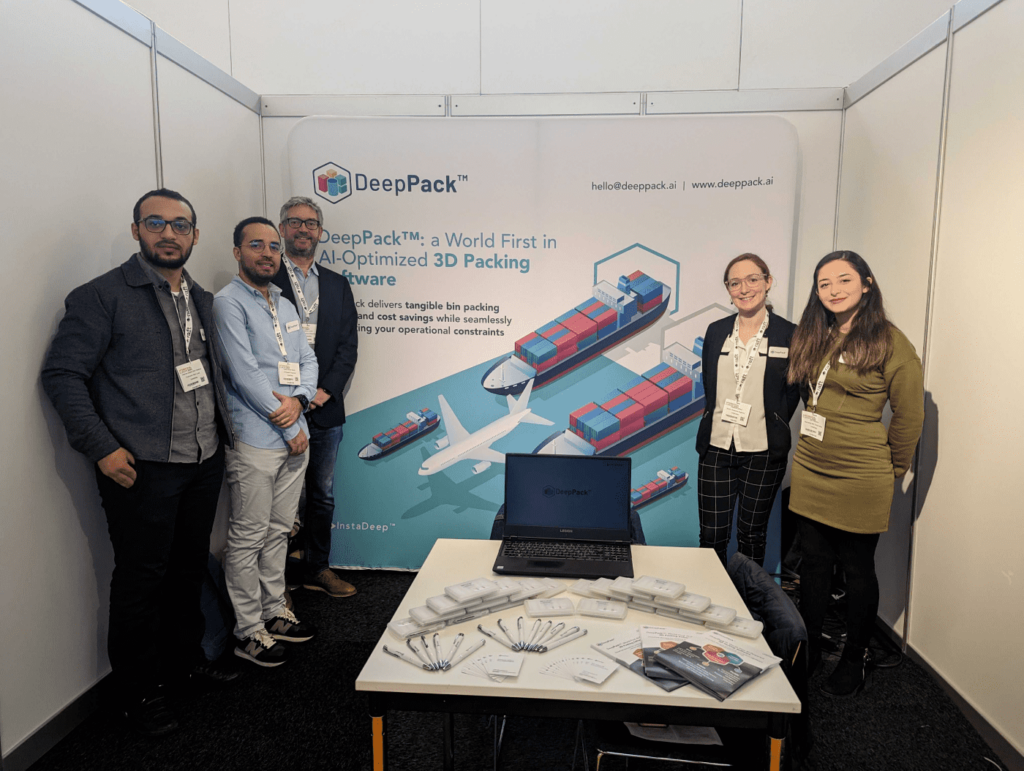 On the first morning, Nathan Jones from the DeepPack commercial team presented a session on 'Decision-Making AI Applied to Cargo Load Planning'; part of a series centered on the decarbonization challenge and how different technologies and initiatives can help. The presentation was well-attended and many thoughtful questions came immediately after and in follow-ups at the DeepPack booth.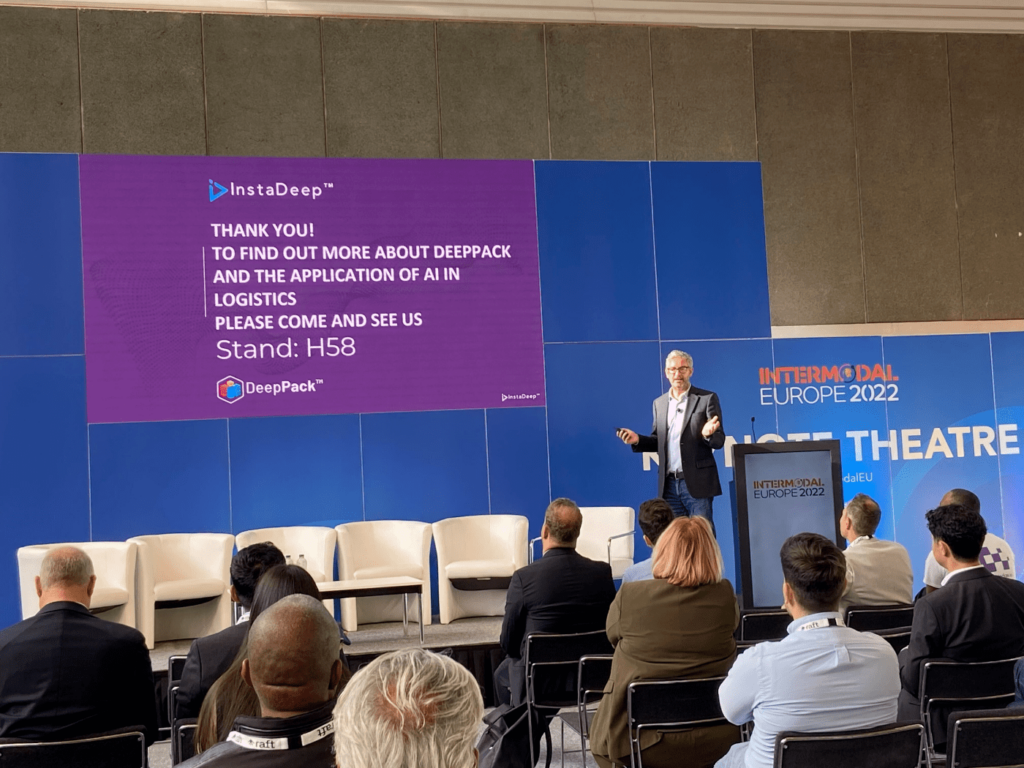 Reflecting afterwards, Nathan said, "Intermodal was a great event for us, confirming our belief that the industry is on the highway to digitization in all processes. Companies that are slow to innovate will struggle to remain competitive. As the industry addresses the huge pressures caused by the pandemic and subsequent global events, there is a sense that resilience can be found in technology, and DeepPack was noticed as something that can help future-proof a process that is overly reliant on human hands."
Echoing this sentiment, Rebecca Jeffers, Senior Research Engineer, continued: "DeepPack enables its industrial partners and clients to digitize and optimize load planning. Optimizing space in every container is essential for reducing the carbon footprint of cargo transport. Respecting user-defined constraints allows us to achieve this objective whilst still providing load plans that are realistic and achievable for real world operations. Several of the discussions also focused on cargo safety and stability as a top priority from a regulatory and financial point of view.
Common themes
Throughout the event, common themes cropped up again and again in conversations with the assembled senior industry leaders and experts, such as: 
How can technology provide greater visibility and traceability for the supply chain industry?
What tools can help with reducing environmental impacts, carbon emissions, and global warming?
What can the shipping and logistics industry do to embrace digital transformation?
How technology can deliver value for money and service excellence to customers?
As the supply chain is a traditionally heavy user of fossil fuels, environmental issues were also very much discussed, as part of the container shipping industry's role and responsibility in reducing carbon emissions and dealing with climate change. A major topic at the event was the Tangible Emissions Trading Scheme initiative being introduced by the European Union. The Transport sector as a whole accounted for 7.2Gt of carbon dioxide emissions (roughly 21 % of the global total) in 20201.
Other topics included visibility and tracking: the team got a number of questions about whether DeepPack was able to integrate smart container tracking solutions with the platform – a need that has been rapidly increasing since the pandemic, with companies such as Hapag Lloyd  recently announcing that it will equip its entire container fleet with real-time tracking devices. 
These issues are all linked, and it was clear that there is a significant appetite from across the industry to adopt new technologies and ways of working. Many of the attendees agreed that an application such as DeepPack would help with efficiency, emission reduction, and digitalization. It is also worth mentioning that, beyond DeepPack, InstaDeep can deliver tailor-made projects to the pain points outlined above, thanks to its advanced decision-making AI expertise, deep tech, and experience in logistics and supply chain. 
Summary
As the industry continues to look to become more efficient, provide value to its customers and reduce its emissions, advances in software technologies, especially in AI, are accelerating digital transformation and digitalization. Greater visibility of the supply chain is becoming achievable through asset tracking and management solutions. By enabling increased efficiency, safety, and security to replace manual inefficiencies, technology will contribute to sustainability targets.
Who attends Intermodal?
This key trade event attracts senior executives from across 3PL and freight forwarders, container design and innovation, shippers and cargo owners, shipping line carriers, ports and terminals, technology providers including tracking software, shipping agents, and providers of logistics services. 
Watch highlights from Intermodal 2022
Day 1
Day 2
The DeepPack team will continue to attend and exhibit at events throughout 2023. We will announce all of these on our website and social media channels.  If you have any questions in the meantime, please get in touch: hello@deeppack.ai. You can also sign up for a free trial of DeepPack, which will enable you to load your own data and generate customized loading plans.  Visit www.deeppack.ai to register.
1 International Energy Agency tracking Transport 2021, Statista Annual CO2 Emissions Worldwide 2020